Manual Roller Blinds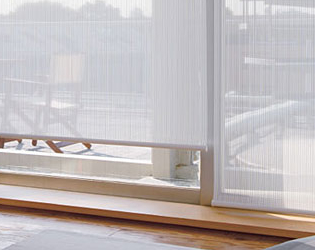 Featured in fashionable designs and colours, the made to measure roller blinds displayed in our online selection of window treatments have been designed with the purpose of providing consumers with items that perform various functions simultaneously providing privacy.

protection from the sun and insulation while beautifully complementing the look of any room.

With quality components for the operation system of the roller shade we offer , it is easy to position the shade at the desired point on the window.

Solar screen fabric, black out fabric, patterned fabric,Numerous colours and patterns are offered as consumers can choose among bright reds, yellows, greens and other attractive shades or beautiful combinations.
Key Features
Ready made roller blinds use 28mm or 38mm diameter aluminum round tube, the plastic chain can control the fabric up and down
The system has built-in speed-reduced device
Bracket and accessories adopted import plastic with durance and can used long time
The strongpoint of roller shades are simple and convinent.

Heavy-duty zinc coated steel brackets and inertia brake system, ideal for commercial use.

Concealed chain wheel, 90-lb test stainless-steel chain, self-lubricating gears, and cadmium-free hardware
Optional direct, lift assist, and gear-reduction drives
Specialty shapes and configurations available
System Description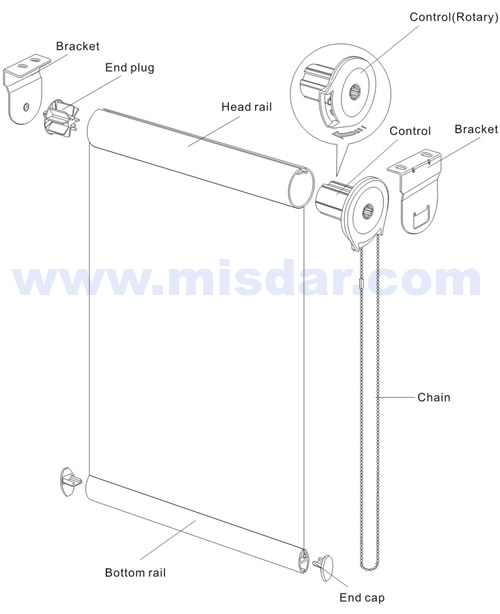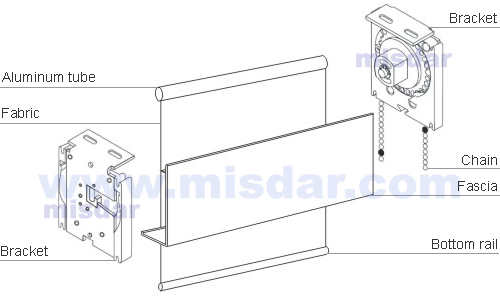 Misdar offers roller blinds with both chain and crank-driven mechanisms that ensure a smooth operation and locks the shade positively in any position, providing fingertip control.
Our zinc-plated, versatile universal mounting bracket allows for the roller shade to be ceiling, side, or wall mounted without the need for additional hardware. .

We offer the roller shade with fascia, cassette for hotel, office, flat.