Ripple Fold Curtains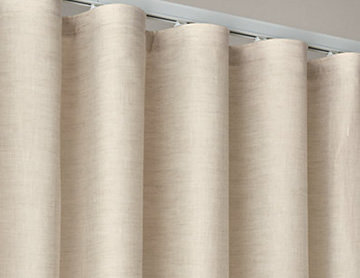 Ripple fold curtains provide the consumer with the ability to create a beautifully folding curtain in materials that would prviously not suited the came situation. It allows the user to create a flowing curtain with wave like pleats that roll smoothly like a drawn curtain in a theator.

Wave and S-Fold curtain headings are an exciting new contemporary style which allows curtains to hang in a continuous wave which is smooth, simple and elegant. Bold statements can be achieved when this heading is used in combination with blockout roller-blinds and wave/s-fold sheers This new heading style is very popular with architects and designers completing their vision of style and elegance.

Our custom Ripple-Fold drapery features soft folds of fabric that glide easily along a track, creating a look that's simple and elegant. the custom panels are made using nearly twice as much fabric as ready-made panels for built-in fullness. Use the panels alone, combine them with our custom shades or layer them on the same window.