BTX Skylight Roman Blinds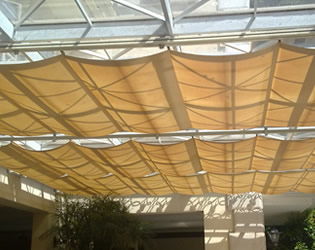 Roof skylight roman blinds can add beauty and value to any building. But they have also created a need for solar shading systems designed to handle the heat, light, UV rays, and reduced privacy these transparent portals and structures produce.

Retractable shades make ideal solutions, providing a beautiful and functional way to handle the downside of sunshine.

They can be adjusted in any position from fully open to fully closed.Retractable shades can reduce cooling costs during the warmer months, protect furnishings, plants, and floors from extensive sun and heat exposure, control glare and add privacy. Such settings are also ideal for roof sunshade systems.

With motorized operation, any retractable shade installation can be controlled with a remote unit at the touch of a button. Moreover, a wide range of motorized units enables users to select from a range of solutions. For example, we have motorized shading control systems that work automatically, based on sensors that can track sunlight, heat or other variables.
System Drawing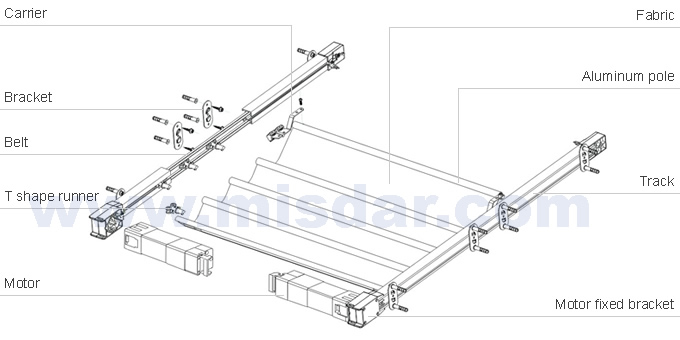 BTX roof skylight roman blind system adopted 230V/50Hz or 120V/60Hz AC motor,racked belt transmitter, suitable for plan ,arc and titled shape awning.
Single open and dual open ,different specification will select 2sets or 4sets motor, single max length10m,width:2m, the max space:16square meter.
,
the fabric show wave effect when awning spread out completely. Control methods: wireless,infrared ,manual switch and group control etc. Suitable for vila,glass house and the house need to collect the lightings

1、It can be used for plane or arc shape。
2、Single open or double open according to different environment
3、Belt driver,It can driver space to 16square meter;
4、The fabric shows water wave effect when fabric strength enough。
5、Control methods:Wireless、Infrared、Manual;
6、Suitable for apartment、flat、flower shed、sunlight house、coffee bar etc.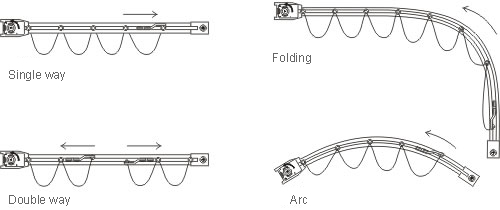 Indoor ceiling curtain is assembled by motor,driven device, supporting components and blinds. The angle between fabric and level is less than 75 degrees that use for shading device of transparent roof in horizontal, inclined, curved position.

Ceiling curtain is divided into skylight roller blinds, btx roman blind , pleated ceiling curtain , louvered ceiling curtain . Rolling shaft ceiling curtain is divided into FTS Skylight roller shades and TFS Skylight rolling blinds.

Product function: sun-shading, anti-dizzy, prevent interior temperature effects and reduce energy consumption.
Applicable places: glass ceiling, sun room and others.