Standard Motorized Roller Blinds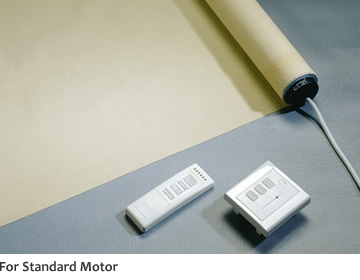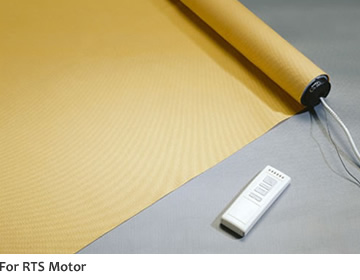 Works perfectly with Amazon Alexa, Google home, Tuya, Smart life by Wi-Fi smart switch, Voice Control your Curtain .



Motorized roller blinds, which are also known as roller shades, offer convenience and ease of electric operation for almost any window application, and are especially useful for hard to reach or large windows.

All Misdar solutions are available with a variety of controls, from simple switches to intelligent sun-tracking systems that incorporate sun/wind sensors and integrate with the building management systems.

Waterproof roller blinds used the same technical parts, only different in fabric, water proof fabric,,waterproof roller blinds mainly used for bathroom, toilet ,kithen or any humidity places.

Motorized or automated roller blinds work by rolling up and down and can be either chain controlled manually or can be automated through motor drive, control it by remote,smart home sytem, wifi etc.
Technical Description
Motorized roller blind is driven by tubular motor to lift or down, can be availabled,Use different hardware according to different size.
Can select AC motor, battery motor, DC 24V motor, Somfy motor. With cassette or without
The systems are easy to operate. It is possible to open or close multiple shades with the touch of a switch, or the click of a mouse
Electirc roller blind systems are a good option for shading large windows, as the weight of an oversized shade can make it hard to operate
Different fabric(solar screen fabric,blackout fabric and others) to attach different shade effect
One motor control two fabric(Horizontal,90degree--180degree angle),one motor three fabric
Control methods:Wireless remote ,Infrared,Switch,Group,Incoporate with Smart Home System Etc
Suitable for apartment,flat,hotel,office,meeting room,exhibition hall etc
Roller Blind Fabric
Roller blinds come in four main styles of fabrics:
Sunscreen fabrics
Block out fabrics
Translucent fabrics
Printing fabric
We can provide high quality fabric which passed SGS inspectoin, Flame-Resistance Ratings: NFPA701 (USA), BS5867-2(UK)
Control Method of Motorized Roller Shade
Remote Control
Switch Control
Timer Control
Infrared Control
The Third Party Switch
Dry Contact Control
Smarhome System Control
Input The key Then Get The Power, Example: Hotel
Mobile Control By Wi-fi
Works perfectly with Amazon Alexa, Google home, Tuya, Smart life by Wi-Fi smart switch, Voice Control your Curtain .
System Drawing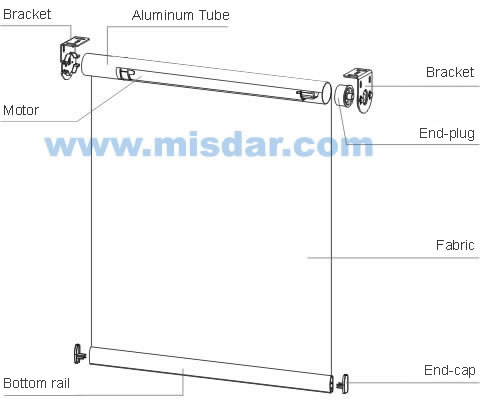 Automatic roller blind Large-scale ,normally 200'' in height, the better to use guide wire to prvent shade movement
Guide wires and other solutions to prevent shade movement due to ventilation systems

Roller tubes designed to prevent deflection even at the largest sizes.

Steel tubes up to 12 inches, plus custom sizes
Available guide wire and hembar systems to ensure optimal shade performance