Motorized Outdoor Venetian Blinds
External venetian blind owns the characters of good anti-ultraviolet radiation and avoiding the direct sunlight shot. By tilting the slats, the light effects could be adjusted as well.

Many colors and types of the aluminum slats are available to match the building style and surrounding atmosphere. It could be installed with side track or cable guidance, the side track system is better to meet the outdoor using due to its stronger wind –resistance.

Manual, motorization, remote and intelligent control are options to choose, everyone could be monitored inside.

Exterior blinds product is better than the interior one as it have better function of energy saving and environmental protection. 97% sun radiation could be prevented out of the window glasses that leads to higher efficient to reduce the air-con energy cost.

External motorized aluminum venetian blind uses aluminum alloy sheet.The blind could run up & down and turn over,which regulate and lead the sunlight to realize sun-shading and heat insulation function.

Applied to outdoor use. There are many different size of sheet, like 50mm, 60mm, 80mm,100mm;some sheets are hole-punched on surface to achieve better light-dimming effect.

Outdoor motorized venetian blind is mainly applied to business office block under unified management( group building),factory,low-rise building, and so on.
Technical Description
Connectible with multi-functional and automatic control system like wind, rain and light sensors to realize smart control system.
When the slat is set at 90 degree angle, the maximum visual field and ventilation quantity is achieved.
Flat venetian blind with motorized opening device could effectively solve the problem of opening window in high place of factory and large building for ventilation.
Moisture, heat-insulation and noise-reduction: when slat close, the window is airtight. As venetian blind slat is double-glazing designed, it could effectively keep indoor temperature and insulate external high temperature.
It could even reduce more than 30dB of the nose.
System Drawing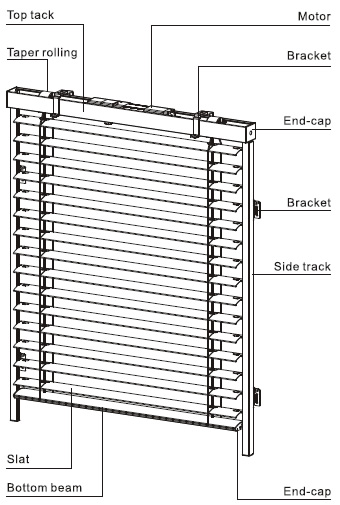 External specialty venetian blinds are the most effective shading device in as much as:
They can be retracted when not required
They can be lowered when sun comes onto the building elevation
The slats can be tilted between open and closed to cope with varying sun angles
The slats can be perforated to provide some outward vision, even when in the closed position
They provide effective control of both daylight/glare and solar gain
An external specialty motorized outdoor venetian blind is similar to the ½" and 1" blinds that are commonly installed internally, with a number of key exceptions:
The slats are larger – generally being between 2" (50mm) and 4" (100mm)
The blinds are generally motorized for ease of raising / lowering and tilting
The main components (headrail, bottom rail and tilt mechanism) are more robust to cope with external weather conditions
The slats are held on side guide wires or extrusions so that the blinds are not too significantly affected by wind. That said, electric external venetian blinds are often used with a control system which will automatically raise the blinds if the wind speed exceeds a pre-set level