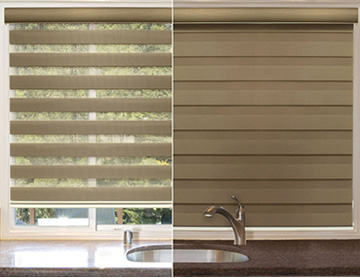 Technical Description

Zebra blinds many kinds of fabric for your choice from, different fabric will have different effect to increase the effect of decoration

Misdar zebra roller shade is a unique roller shade that is a brand new innovation where the striped fabric across two layers creates the open and closed effect.

When the side chain is operated you are able to maneuver the shade to be either closed, so that you cannot see through it or by coordinating the open weave you are able to create the sheer effect (open). If you wish to lift the shade then simply raise the shade like a normal roller shade using the side winder and the shade retracts into the top of the window.

The sheer shade is beautifully presented in a cassette and creates a very contemporary roller product.

Zebra shades are operated through traditional pull cords and continuous cord loops , of course, that can made in motorized and control by remote or you can connect with your smart home


Simple and elegance design will let your life different ,normally used for office,dinning room and living room, also can use for office ,coffee bar , hotel ect.